Wow where do I start. I'm getting really bad about posting here lately. I've been doing a fitness bootcamp at night so when I get home it's pretty much straight to bed. Ok, first. My grandpa was diagnosed with lung cancer last week. This has been pretty hard to deal with. Actually, I'm not sure I know how to deal with it. I've never lost anyone in my family (minus my baby of course). Right now I'm just praying for God to either heal him or if it's time for him to go to heal my family and know he is in a better place. As of now he is not going anywhere though. He had surgery yesterday to remove 1/3 of his lung. He took a while to wake up, but when he did he was back to his witty self. He is doing amazing. Please just keep my family in your prayers.
I also had my 10 year high school reunion this past weekend. It was so much fun. I can't believe 10 years have gone by so quickly. I saw a lot of old friends. I still wish more would have came. Here is a pic of all the girls and me and my husband.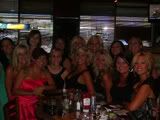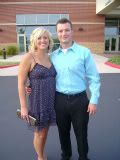 We did our 3rd and final IUI yesterday. This one actually was pretty painful. I'm not sure what was so different, but I cramped all night. I'm actually thinking I ovulated the day before which would be the earliest I think I have ever ovulated. Don't worry we have our bases covered ;). It's almost bittersweet knowing this is the last one. It has become such a part of me and who I am. At the same time I'm so happy to put this behind me. Even if we do have to move on to IVF at least it's something new and more promising. Prayers Prayers and more Prayers please.