While I hope to someday be posting about our actual babies, I dont' see that happening anytime soon. So I decided I would talk about my other babies. My puppies. I got the first one for my 25th birthday in 2007. I had shown a pic to my then fiance of a dog in boot. It was a long hair daschund. Robert came home one day and made me go in the bathroom. When I was allowed to open the door the first thing I saw was a little puppy in a boot. He was the cutest thing in the world. I was instantly in love. I will share a few pictures of him as a puppy. His name is Rylan.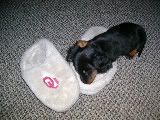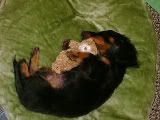 Rylan used to come to work with me and this is what he would do all day. He was the sweetest dog in the entire world and still is. Now Bentley on the other hand I had a love/hate relationship with. I got him for Valentines Day in 2008. I had a new job so I didn't have the leisure of bringing him to work with me. So he stayed caged up as a puppy for 11 hours. As we all know puppies can't hold anything that long. I cleaned up poop every single day for about a month straight. Needless to say Bentley also got a bath every day for a month. He is a Chiweenie. Chihuaha/Daschund mix. He has a lot of Chihuaha qualities such as being skidish, barking non stop, and decides to pee on the floor occasionally. He is getting a lot better and we know have a very loving relationship. Here are some pics of him as a puppy.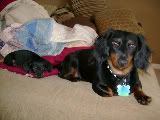 These dogs make my day when I get home. We let them out of their cage and the excitement they have to see me is amazing. I really do feel so loved by them. These dogs sleep with us at night. Rylan and I spoon. Yes he sleeps in my little circle and lays his head on my pillow. So spoiled and Bentley sleeps at my feet. I don't want to imagine life without these dogs. They really are like our children. I hope they live a long loving life. I will leave you with some more pictures. I have about 300 of them, but for the sake of saving your day I will only post a few.