So I've talked enough about infertility. Time for a happier time. I thought I would post some pics of our decorations. There aren't many so this will be quick.
Here is our Christmas Tree.n We are still in the hunt for a perfect topper.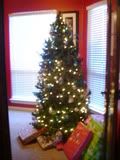 And here are the lights on the outside of the house. It's kind of a crappy picture, but you get the point. Hubby and nephew did such a great job.
I hope everyone has Merry Christmas. And remember this season is about Jesus, not us!